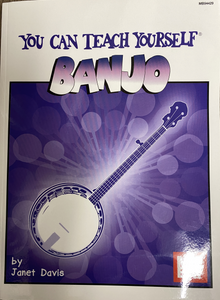 You Can Teach Yourself Banjo Book
Regular price
Sale price
$8.99
---
This is the ideal beginner's book, presenting the basics of the 5-string banjo in a way that is both fun and easy. Janet Davis takes you on an extensive tour of this instrument's fundamental techniques, as well as some intermediate possibilities including rolls, chords, bluegrass banjo techniques, playing up the neck, licks, endings, and other basics needed to play bluegrass and melodic-style banjo. Thorough performance notes are provided from beginning to end, revealing the secrets of this versatile instrument. The companion stereo play-along audio features Janet Davis' teaching and lively banjo performance. On the online video, Janet explains the first 22 lessons from the book and demonstrates examples at both slow and regular speed.
Contents
Amazing Grace      
Banjo Signal      
Bile Dem Cabbage Down      
Blackberry Blossom      
Blackberry Blossom      
Buffalo Gals      
Cripple Creek      
Cumberland Gap      
Devil's Dream      
Down The Road      
Flop Eared Mule      
Good Night Ladies      
Good Night Ladies      
Grandfather's Clock      
Home On The Range      
John Hardy      
Little Maggie      
Lonesome Road Blues      
Lonesome Road Blues      
Mountain Dew      
Old Joe Clark      
Old Man At The Mill      
Pig In A Pen      
Pretty Polly      
Reuben      
Sally Goodin'      
Salty Dog      
Shady Grove      
She'll Be Coming Around The Mountain      
Silent Night      
Soldier's Joy      
Sugarfoot Rag      
Sunnyvale Breakdown      
Train 45      
Turkey In The Straw      
Two Little Boys      
Wabash Cannonball      
Wildwood Flower      
Wildwood Flower      
Worried Man Blues      
Product Number:
94429M
Format:
Book + Online Audio/Video
Skill Level:
Beginning
Pages:
116
Binding:
Squareback Saddle Stitched
Size:
8.75 x 11.75
ISBN:
0-7866-9321-5
ISBN13:
978-07866-9321-4
Series:
You Can Teach Yourself
Publisher:
Mel Bay Publications, Inc.
Date Published:
12/1/2015