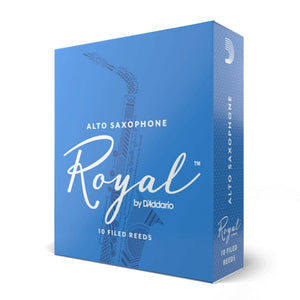 Rico Royal Alto Sax Reeds sealed 10 Pack Filed Cut Choose Strength 2.5, 3, 3.5, 4
Regular price
Sale price
$26.99
---
ROYAL BY D'ADDARIO ALTO SAXOPHONE REEDS
Featuring a filed cut for additional tonal clarity, Royal by D'Addario Alto Saxophone reeds are ideal for both beginning and advancing players. These reeds have a traditional blank and profile to give you an ease of response when playing

Product Features
---
Traditional blank and profile, filed cut
Ideal for beginners
Designed for ease of play
Priced affordably for educators and parents
All D'Addario reeds are designed and manufactured in the USA from naturally-grown cane

 Reed FAQ:
What should I use to wet my reed?
It is best to use water to wet your reed. Be mindful to not leave it submerged in water for more than two minutes.
Can I store my reeds in the plastic reed holders that they came in? 

Plastic reed holders protect the reeds before the box is opened by the purchaser, but they are designed to be used only for initial transport from factory to customer. It is always best to move the reeds to an air-tight reed storage system to protect the life of the reeds.

How should I break in my reeds? 

D'Addario reeds are made of natural cane (Arundo Donax), so they need special attention during the first 3-5 days of use to allow the cane to adjust to the wetting and drying that occurs during normal playing. To break in your reeds, carefully follow the steps provided below. 
1. Stabilizing a reed's humidity is very important. First, place a new box of reeds into a humidity storage case, like D'Addario's Reed Vitalizer, before playing them. 
2. The next day, soak the reed in water for 30 seconds. Gently wipe off excess water on the vamp, table, and heel of the reed. Reeds can be played to begin the break-in process, but do not play more than five minutes per reed. 
3. Wipe reeds clean of excess moisture and store in your airtight reed storage system along with a Reed Vitalizer Single Refill Pack. Reeds can be played a little longer each day after this step.
4. This break-in process has added benefits and can be incorporated into a normal warm up routine by players and ensembles of all levels. 

What is the difference between traditional reed blanks and thick reed blanks?
Blank thickness relates to the thickness of the cane wall that a reed blank is cut from. A thicker blank reed will contain more cane wall material--you can physically see this at the heel of the reed. You may also be able to hear a tonal difference and physically feel a difference between various blank thicknesses.