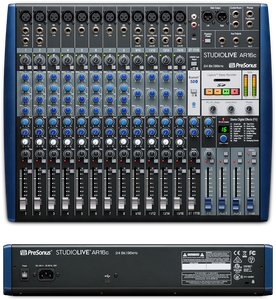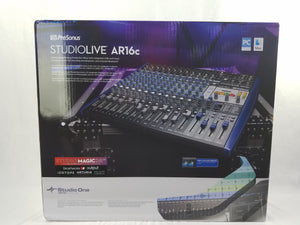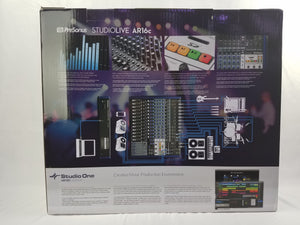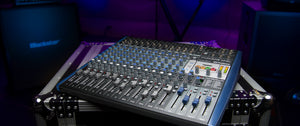 PreSonus StudioLive AR16c USB-C Digital/Analog Recording/Live/Podcast Mixer
Regular price
$799.95
Sale price
$699.99
---
STUDIOLIVE AR16c

Don't let the classic analog mixer design fool you—the StudioLive® AR16c was built to record. With a pristine analog front-end, 12 high-gain XMAX mic preamps, and an 18x4 24-bit, 96 kHz, USB-C compatible USB 2.0 audio interface, its hybrid design makes it simple to record studio productions and mix live shows from a single intuitive console. Add in a musical 3-band analog EQ, mic/line boost for low-level vintage synths and broadcast microphones, all-new digital effects with rich reverbs and lush delays, Bluetooth® connectivity, and a stereo SD recorder... and you have a mixing and recording powerhouse that fulfills the needs of both modern musicians and content creators.
The StudioLive AR16c audio interface operates at up to 96 kHz for high-definition mixing and recording. Record each of the 16 inputs, plus the main mix for even more flexible recording options. Play back up to four streams for monitoring previously recorded tracks—plus a click. Twelve lauded XMAX mic preamps provide all the gain you need to capture even the most subtle details without adding any extra noise. The analog mixer front-end makes connecting your gear to your computer intuitive, and creating monitor mixes is quick and easy. With a USB-C™ compatible connection, your StudioLive AR16c is ready to use as an audio interface for nearly any computer.
The unique Super Channel can handle four stereo sources at once and makes it easy to integrate consumer devices into your studio workflow. Connect a turntable to the RCA inputs, use the ⅛-inch stereo input to plug-in your smartphone, or forget the cable and connect it via Bluetooth wireless technology. You can also toggle between a stereo playback stream from your computer and playback from the onboard SD recorder, making rehearsal a snap.
The StudioLive AR16c audio interface and analog mixer is tightly integrated with state-of-the-art recording software to help you realize your creative vision. Record multitrack live performances with one click thanks to PreSonus' Capture™ live-recording software. Create complete studio productions with our award-winning Studio One® Artist DAW. With two professional recording applications included with your StudioLive AR16c, you're ready to record right out of the box.
Imagine you're rehearsing with your band and want to record your session to analyze later. Or perhaps you're in the middle of a songwriting session and want to capture your ideas as quickly as they come to you. Either way, the StudioLive AR16c's stereo SD recorder has you covered. Insert any SD/SDHC card and you're ready to record your main mix to listen to later, so you'll never forget a great song idea or an amazing guitar solo. Doing mobile interviews for your podcast? Leave the computer at home and record straight to SD.
Monitoring with reverb and delay helps to create better recordings. Any vocalist or guitarist will tell you that a little reverb makes them feel more comfortable while performing. The StudioLive AR16c mixer's onboard effects processor lets you add high-quality reverb, delay, or chorus to any channel for a professional monitor mix. Like what you hear in your headphones? Record the Main Mix and capture the effects mix, too—with or without the dry channels—to blend with your multitrack recording. Experiment in post-production to your heart's content.
Packed with all the connections and controls needed to mix and record in the studio and on the stage, the StudioLive AR16c is the ultimate recording solution. The eight mono channels and four stereo channels include a musical three-band EQ, plus one of PreSonus' famed XMAX high-gain mic preamps. Two dedicated monitor mixes with balanced outputs provide your musicians the custom mix they need. The USB-C compatible connector ensures your StudioLive AR16c audio interface will be the center of your studio for years to come. And with high-resolution 96 kHz recording, a full complement of connections, and an instantly familiar workflow, the StudioLive AR16c is the perfect recording and mixing solution for the modern musician and content creator.
Recording
18x4 24-bit/96 kHz, USB 2.0 (over USB-C™ connection) audio recording interface

Record every channel plus the main mix

2x2 SD recorder to capture the main mix

Supports SD™ and SDHD™ formats up to 32 GB
Mixing
18-channel analog mixer
12 balanced microphone inputs with XMAX mic preamps
2 insert points
2 instrument/line inputs
16 balanced line level inputs:
Stereo Super Channel (Ch. 17/18) with Bluetooth 5.0 input, RCA inputs, 1/8-inch stereo input, and switchable SD/USB stereo playback
8 mono and 4 stereo channels, each with level knob, pan, mute, PFL solo, highpass filter, and 3-band semi-parametric EQ
2 monitor buses with dedicated channel sends, AFL solo, and balanced TRS output
L/R Control Room outputs with level control
Headphone output with level control
Signal Processing
Highpass filter on every channel
3-band quasi-parametric EQ with sweepable mid-band on each mono channel
3-band semi-parametric EQ on each stereo channel
Stereo effects processor with 16 presets, dedicated send and return, and bypass footswitch jack
Mic/line boost on stereo channels for low-level input sources and consumer devices
Included Software
Capture™ live multitrack recording software
Studio One ®

Artist recording and production software (DAW)

Studio Magic plug-in suite
Power
Internal power supply
Standard IEC power connector
Physical
Sturdy metal construction
60 mm faders
Rackmount kit included
Computer system requirements:
Below are the minimum computer-system requirements for use with Capture™ and Studio One®.
Mac
macOS® 10.11 or higher (64-bit only)
Intel® Core™ 2 Duo processor (Intel Core i3 or faster recommended)
Windows
Windows® 7 x64 SP1 + platform update, Windows 8.1 x64, Windows 10 x64
Intel Core 2 Duo (Intel Core i3 or faster recommended)
Mac and Windows Systems
4 GB RAM (8 GB or more recommended)
30 GB hard-drive space (Studio One)
Internal or external 7200 RPM storage drive highly recommended
Monitor with 1366x768 resolution (high-dpi monitor recommended)
The minimum system requirements may differ for DAWs other than Studio One®. Please check the requirements for your DAW of choice with its manufacturer.
Note that the speed of your processor, amount of RAM and size and speed of your hard drive will greatly affect the overall performance of your recording system. Also, a more powerful system (faster processor with more RAM) will allow for lower latency (signal delay) than you might experience while monitoring audio signals.
As a commitment to constant improvement, PreSonus Audio Electronics, Inc., reserves the right to change any specification stated herein, at any time, without notification.​​