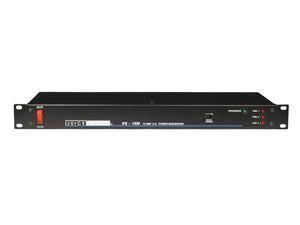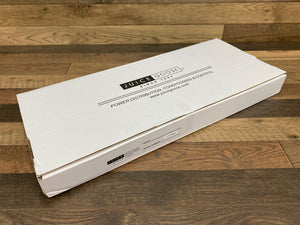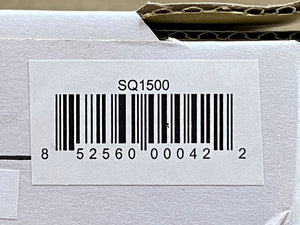 Juice Goose SQ1500 Sequencing Power Distribution, Conditioner & Control 15 Amps
Regular price
$289.00
Sale price
$259.00
---
Stand Alone AC Power Sequencer
The SQ-1500 is an economical power sequencer for single rack applications when local or remote control is required. Remote activation with a latching contact closure makes installation and operation simple and efficient.
This item has a fifteen amp capacity with seven  AC power outputs on the rear of the chassis. One output is unswitched. The remaining six outputs are grouped into three Power Pods of two outputs each. Each Power Pod is an individual sequence event. All outputs have Juice Goose quality surge and spike protection as well as line noise filtration.
This product features LEDs on the front of the chassis for real time monitoring of the processor and sequencing functions. A green flashing LED indicates the continuing operation of the processor that controls and drives the sequencer. Individual red LEDs are tied to the output of each of the relays. Each LED lights when its relay latches. The LED can only be on when the relay is latched.
SQ-1500 (TM) 
SEQUENCED POWER CONTROL SYSTEM


GENERAL DESCRIPTION
The Juice Goose SQ-1500 provides a simple and cost effective means of local or remote activation
of AC power in a three step sequence for application to both sensitive audio and high amperage
equipment. The sequence process of the SQ-1500 can be controlled with the switch on the front of
the unit or by way of a remote latching contact closure connected to a terminal strip on the back.
The SQ-1500 features three sequenced duplex receptacles and one unswitched AC receptacle. Each
duplex has its own preset turn on and off timing. Signal source and processing equipment can be
powered by the first sequence stages while amplifiers are powered by the last ones. All power down
sequences are exact reversals of the power up sequences.
The SQ is a great choice for single rack applications where fifteen amp sequential power control is
sufficient. For installations involving higher current or where multiple racks are involved see the
Juice Goose CQ-1520 and other CQ Series products.
REMOTE CONTROLS AND MONITORS
The SQ-1500 can be triggered by the switch on the front of the unit or by a remote contact closure.
There are five positions on the remote control terminal on the back of the SQ-1500. This communi-
cation link allows the SQ-1500 to be controlled by closing and opening a latching contact. 

Terminal Connections for Remote Control
1 to 4 - Sequence Down
1 to 5 - Sequence Up.
(Other positions are currently open.)
When there is no contact on the terminal the sequence switch on the front determines the function
of the unit.

The SQ-1500 can be activated with a custom mounted single or double pole switch, a relay or any
other latching device including controllers from Crestron, AMX and other manufacturers.
LOCAL CONTROLS AND MONITORS
The SQ-1500 features a two position sequence switch on the front of the chassis. This switch is
active only if there is no contact closure on the connect terminal on the back of the unit. When
active, this switch causes the unit to sequence up or sequence down. A Manual Override switch
allows the SQ-1500 to be manually operated, overriding the control circuit in the unlikely event of
a fault or failure. The Manual Override switch actives all outlets at once without sequencing.

Indicator LEDs on the front of the chassis allow local monitoring of the unit operation. The PROC-
ESSOR light will blink to indicate the control processor on the unit is functioning. The POD lights
are illuminated as a result of contact closure by the CQ relays, indicating that relay closure has
occurred.

DETAIL SPECIFICATIONS
Chassis...................................................................................................................................16 gauge steel

Dimensions..................................................................................1.75"H x19"W x 7"D

Weight..............................................................................................................10 lbs

Circuit Breaker.....................................................15A thermal on back of the chassis

Relay Current Rating..........................................................................................30A

Number of Sequence Events.............................................................................Three

Power Input..........................................Seven foot power cord with NEMA 5/15P plug

Power Output............Six NEMA 5/15R (Sequenced) & one NEMA 5/15R (Unswitched)

Input Voltage............................................................US standard (120 VAC @60Hz)

Signal Connections.....................Five position terminal for 14 to 24 AWG connection

Monitor Features....................................................................................................Front panel monitor LEDs