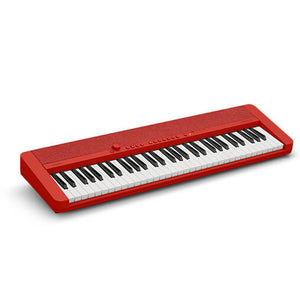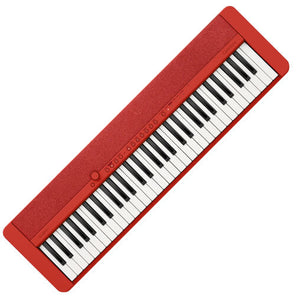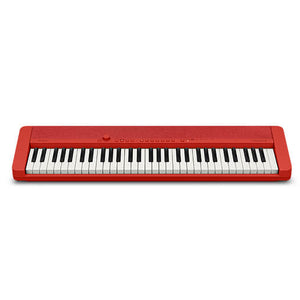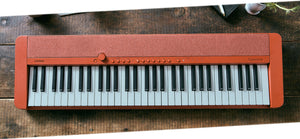 Casio Casiotone CT-S1RD Portable Digital Keyboard - Red with 61 full-size keys
Regular price
$319.99
Sale price
$219.00
---
61 full-size keys with touch response
-Available in black, white or red to match your style
-Stereo grand piano plus 60 other AiX powered Tones
-Powerful bass reflex stereo speaker system with surround effect
-Easy one-button recorder
-Strap pins for playing anywhere
-Class-compliant USB-MIDI connects to free Chordana Play app
-Optional WU-BT01 Bluetooth MIDI/Audio adapter
-Optional 6xAA battery power (AC adapter and music rest included)

 In 1980, the original Casiotone CT-201 allowed anyone to make music, regardless of skill level or budget. With the CT-S1, its spiritual successor, we've raised our own bar. The Casiotone CT-S1 is a great-sounding, stylish, ultra-portable keyboard designed for anyone to enjoy playing. Its incredible sound quality makes it an ideal musical partner for beginners and seasoned players alike, and its sleek, portable design makes it fun to play anytime, anywhere.
Now It's Personal
The CT-S1 reflects your style in more ways than one. Choose the color that best matches your home, your look, or your life in general. Then, express yourself with 61 studio-quality, stage-ready Tones. And with a keyboard that looks and sounds this good, there's no need to keep it on a stand. Put in 6 AA batteries, attach a strap, and wherever you're standing becomes center stage. Basically Everything Like many of our Privia and Celviano digital pianos, the CT-S1's streamlined design features simplified controls that allow you to focus on selecting a Tone and practicing or performing without distraction. A convenient metronome button helps you keep time, and an easy one-button recorder lets you capture ideas.

The Heart of a Champion
The CT-S1's AiX Sound Source delivers sound quality that you'd expect from a keyboard costing hundreds, if not thousands more. Power on the CT-S1, and you'll be presented with a dynamic, expressive German concert grand piano placed in a virtual concert hall. You'll also find essentials like electric pianos, organs, strings, synths, and more, with Advanced Tones adding complex layers that react to your playing. A collection of vintage keyboard sounds is also included, featuring recreations of timeless, sought-after keyboard instruments. We've even included classic Casio sounds from our VL, VZ and CZ series. Small Size, Huge Sound
There are three ways to experience the CT-S1's amazing sound quality at its best. First, the bass-ported stereo speaker system delivers eyebrow-raising punch and clarity throughout the entire volume range. Second, plug in a good set of headphones for personal play. Third, press the SURROUND button, and the sound from the speakers will place you right in the middle of your music.
More Than Meets the Ears
A world of possibility lies behind these keys. You can choose virtual concert venues, layer tones together, add delay and EQ, adjust temperaments, and much more, right from the front panel. The FUNCTION button takes you far beyond the ordinary, and every CT-S1 comes with an easy guide that shows you exactly how to unlock the CT-S1's full potential.
Connected to Your World
The micro USB port connects your CT-S1 to any PC, Mac, iOS or Android device with no drivers or installation needed. Use the free Chordana Play app to learn to play your favorite songs with downloadable MIDI files. With the optional WU-BT10 Bluetooth MIDI/audio adapter, you can even connect wirelessly to your favorite devices to control them via MIDI, or to use the CT-S1 as a Bluetooth speaker.
Featuring a design layout pared down to the essentials

With the pure essence of musical instruments at its core, the essential keys, speakers and minimalist design add to the CT-S1's simple functionality and operation, so you experience the best in playability and can concentrate on the music. Available in black, white or red, the keyboard's speaker net, with its mixed color-texture fabric, spans the length of the console, adding to the wide soundscape experience. The sleek look provides the ideal minimal aesthetic, blending seamlessly with any interior setting, and allowing your life and your music to shine.
Bring together life, space, and sound in perfect harmony with the CT-S1.
Blending seamlessly with any interior setting

The mixed-color fabric used for the speaker net material gives an appearance informed by interior design sensibilities. The model is offered in three color variations — white, black and red — in order to ensure a great fit for any room interior.
Sound That Truly Moves You
Bring vibrancy and emotion to your music with the CT-S1 – a keyboard like no other. Featuring AiX Sound Source, this innovative technology is designed to enable electronic instruments to produce the perfect tones and, combined with the integrated acoustic sound system, bring each note to life.
Recharge yourself with inspiration. Feel energized and encouraged to play more.
Rich, Exultant Tones, Created Through a Relentless Pursuit of Excellence
[ADVANCED TONES]
- upper-echelon, refined Casio tones – are crafted using the best of Casio technology. Created by carefully modeling the acoustic and vintage instruments used in many classic songs, the tones come to life through AiX Sound Source. The result is a vivid recreation of the unique character and nuance of each instrument, with tones that vary dynamically in response to different subtleties in playing, enabling fresh new forms of expression.

[CASIO CLASSIC TONES]
- allowing old to become new again. We've captured the iconic sounds of our own rich lineage of keyboard and synthesizers, such as the Casiotone 201, to celebrate the 1980s debut of our electronic musical instruments.

・Touch Response – add intensity and rich expression to each note you play

・MIDI Recorder – record your performances and play them back featuring a design layout pared down to the essentials
Touch Response
3 sensitivity levels, off
Number of Tones
61 ADVANCED TONES: 10 CASIO CLASSIC TONES: 12
Demonstration Songs
Demonstration Songs: 1 + 10 (Piano demo)
Recorder
[MIDI Recorder] 1 song 40,000 notes
Power Supply
AC Adaptor: AD-E95100L (DC 9.5V) Batteries: AA-size alkaline batteries x 6 or AA-size rechargeable nickel metal hydride batteries* x 6 Battery Life: Approximately 3 hours continuous operation Actual continuous operation time may be shorter due to battery type, performance type, and usage environment. *Measured values while using eneloop batteries. eneloop is a trademark of Panasonic Corporation.
Dimensions
930 x 258 x 83 mm (w/o music stand)
Weight
4.5kg (w/o batteries)
Included Accessories
Music Stand, Strap Lock
Effects
Reverb: 24 (+ Preset for each tone) Chorus: Yes (Preset for each tone) Delay: Yes (Preset for each tone) DSP: Yes (Preset for each tone) Master EQ: 10 Surround
Layer/Split
Layer: 2 (Upper1/2)
Octave Shift
-3 octaves ~ 0 ~ +3 octaves
Transpose
-12 semitones ~ 0 ~ +12 semitones
Tuning Control
A4 = 415.5 Hz ~ 440.0 Hz ~ 465.9 Hz
Scales
Equal temperament + 16 variations
Metronome
0 to 16 beats; tempo range: 20 to 255