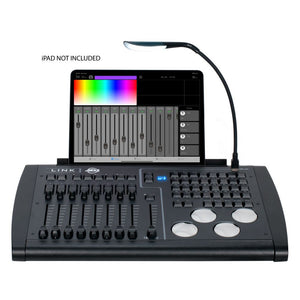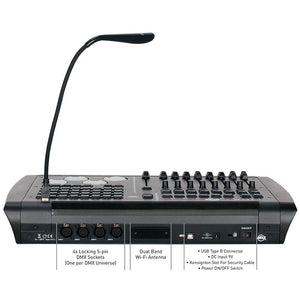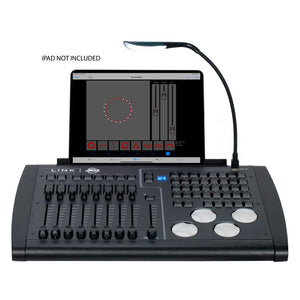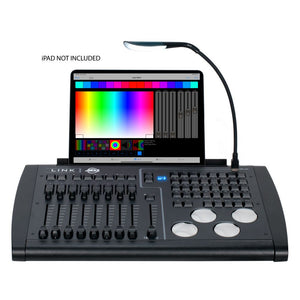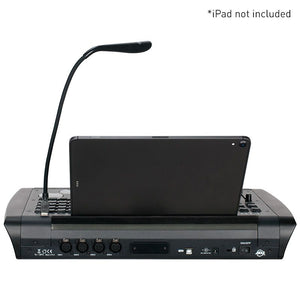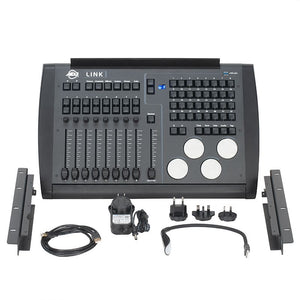 ADJ American DJ LIN556 LINK Rack Mountable 4 DMX Universe iPad Controller
Regular price
$1,399.95
Sale price
$999.99
---
ADJ's New Control Solution Provides The LINK Between Lights and Creativity
LINK is a 4-universe controller designed to control compatible DMX devices with control from the dedicated Airstream DMX LINK iOS App for iPad.
LINK can connect to an IPad wirelessly or hardwired. When connected wirelessly, LINK creates a private standalone 2.4 or 5 GHz DSSS (Direct Sequence Spread Spectrum) WiFi network between an iPad and LINK console, which can coexist in busy RF environments alongside other wireless technologies. Connecting wirelessly will also allow you to undock the iPad and remotely control, program and playback your light show. If you prefer to use a hardwired connection between the IPad and LINK you will need a USB cable adapter, not included, which will also allow the IPad to charge at the same time. Four (4) hardwired, 5-pin XLR outputs on the rear of LINK send constant and reliable DMX signal to compatible DMX devices.
LINK is ideal for small production events, nightclubs, bars or any event or venue which requires the flexibility of wireless iPad control, and who are looking for a robust, 4 DMX universe APP based lighting control solution. 
CONTROL / CONNECTIONS:
(6) General Purpose Buttons
(1) Master and (8) Control 100mm Faders
(16) Page Playback Buttons Above Faders
(8) Rotary Dials with Push-In Selection Above Faders

(1) Blackout Button
(32) Instant Effect or Scene Calling Buttons
(8) Bump / Momentary Effect Buttons
(4) Rotary Encoder Wheels with Push-In Selection
USB 2.0 Type "B" Port
ADDITIONAL FEATURES:
WiFi and DMX512
2.4 and 5Ghz GHz DSSS Wifi Network
4, Hardwired, DMX Universes
USB Input for Gooseneck Work Light
Removable Outer Case for 6U Rack Mounting
Kensington™ Security Device Slot
SIZE / WEIGHT:
Length: 20.3" (514mm)
Width: 13.2" (336mm)
Vertical Height: 3.5" (88mm)
Weight: 13.0 LBS. (5.9 kg)
INCLUDED ITEMS:
USB Cable
Mult-voltage DC9V Power Supply (100-240V, 50/60Hz)
4 Power Adapters: Type A (US), Type C (Europe), Type G (UK), Type I (Australia, China)
Rack Mount Kit
Specifications and documentation subject to change without notice.
ADJ is pleased to introduce the latest edition to its range of lighting control solutions, the LINK. This unique hardware/software system combines the processing power, wireless connectivity and multitouch screen of an iPad with lighting-specific tactile controls and a four universe DMX interface to deliver a unique control solution. Powerful and user-friendly, the LINK fills the void between small single universe DMX controllers and large format lighting consoles. It is designed to simplify control for aspiring lighting designers, small production companies, churches, community theatres and performances spaces, providing a new connection between lights and creativity.
The ADJ LINK control system is powered by the dedicated Airstream LINK iOS App for iPad, which is available as a free download from the Apple App Store. This feature-rich lighting control platform includes an extensive fixture library, making it easy to setup for different shows and equipment configurations. It incorporates powerful tools to allow the easy creation of complex movements and color chase effects, and allows the iPad's memory to be utilized for storing custom Scenes and Shows that can be quickly re-loaded when required. The software also makes use of the iPad's precise touchscreen interface to facilitate actions such as color mixing and drawing custom movement shapes.
To augment the iPad's screen interface, the LINK hardware offers a selection of ergonomic controls designed to give lighting designers the hands-on experience of a traditional lighting console. Four large rotary encoder wheels, with push-in selection, provide precise control over functions such as movement, zoom and focus. Alongside these are eight 100mm channel / submaster faders together with an additional master fader with dedicated blackout button. Each fader is also paired with a dedicated rotary control, with push-in selection, as well as two page playback buttons. A matrix of 32 buttons provide instant access to specific scenes, fixtures or effects, while page scroll buttons – together with a 2-digit backlit LCD display – make it easy to keep track of a large quantity of scenes. Finally, dedicated buttons provide quick access to each of the app's main screens and an additional set of buttons provide shortcut control of key app functions.

Combined together, the physical dials, buttons and faders of the console, along with the visual interface facilitated by the iPad screen, provide an intuitive and comprehensive lighting control solution suitable for a wide variety of applications. Its smooth faders and extensive scene programming abilities will suit those working in a theater environment, while the significant number of instant playbacks as well as the powerful movement and color chase programming tools will appeal to concert and nightclub LDs. The easy to navigate iOS app makes the LINK system ideal for new designers, while its powerful features and versatile workflow will also suit experienced professionals.




Connection between the iPad (which needs to be purchased separately) and the LINK hardware can either be made wirelessly or via a USB socket (adapter not included). For wireless connection, the LINK device features an in-built dual band Wi-Fi antenna which creates a private standalone 2.4 or 5GHz DSSS (Direct Sequence Spread Spectrum) network. This is able to coexist in busy RF environments alongside other wireless technologies and allows the iPad to connect wirelessly without the need for any additional network infrastructure. Wireless connection means that the iPad can be moved away from the LINK hardware, which may prove extremely useful during programming when it is desirable to view a lighting rig from different angles while simultaneously making adjustments.

The LINK system can be used to control up to 2,048 DMX channels, four full DMX universes. Each universe is output via a dedicated 5-pin DMX socket on the rear of the hardware unit. The rear panel is also home to the USB Type 'B' socket for (optional) wired iPad connection, a Kensington™ Security Device Slot as well as a 9V DC power input for connection of the included low voltage power supply. An additional USB 2.0 Type 'A' Port is located on the front of the control surface, which can be used to power the USB gooseneck LED work light that is supplied with the hardware.

Measuring 20.2" x 12.9" x 3.6" / 514mm x 328mm x 91mm (L x W x H) and with a weight of 15 lbs. / 6.8 kgs., the LINK has a convenient desktop design that is easily portable. It features an integrated iPad cradle, which can be adjusted to provide an optimal viewing angle. For permanent installation or flight-casing, the plastic side panels can also be removed and replaced with the supplied metal rack ears to allow mounting in a standard 19" equipment rack (the unit will occupy 7.5 units of rack space).

"Effective control is essential to allow lighting professionals to get the most from their fixtures and realize their creative vision," comments ADJ USA's National Sales Manager, Alfred Gonzales. "Broadly speaking, up until now, there have been three options available to lighting designers and event companies: simple hardware devices with limited channel capacity, computer-based software solutions, or very large format consoles. ADJ's new LINK system is the result of extensive R&D work to provide a new category of control, one that fills a gap in the existing market. The LINK offers the feel of a traditional console paired with the compact computing power and touchscreen interface of an iPad to provide a comprehensive four universe DMX control solution that is ideal for houses of worship, community theaters, clubs, lounges and bars, as well as small-to-medium-sized event production companies. It is much simpler to learn than the advanced lighting consoles currently on the market, but still offers the features necessary to realize ambitious creative visions."